REXALINE YOUTH LINE 3D
New generation available in September

Youth Line 3D New Generation : ANTI-AGING THROUGH HYPER HYDRATION
REXALINE CLEANSERS
Removing make-up…
A chore ? Not anymore!

3 textures : water, foam, oil, tailored for each skin type
REXALINE PREMIUM LINE KILLER
Straight to your wrinkles!

Line Killer : anti-wrinkle high-precision combined with hyper hydration
THE REXALINE CLUB
Join the Rexaline Club

Join a community of hundreds of users to whom we dedicate exclusive privileges!
REXALINE YOUTH LINE
Thirsty for youth ?
Rexaline retains the water that retains youth

Youth line : anti-aging through hyper hydration
REXALINE NEWS
Rexaline at TFWA of Cannes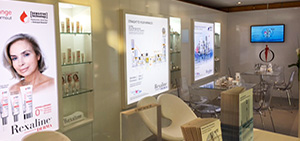 As every year the Id-beauty company presented at the TFWA Exhibition
IMAGINE FOR MARGO
Children without Cancer

Rexaline supports "Imagine for Margo"
DISTRIBUTEURS
Find a Rexaline or Wonderskin retailer

PRESS
Worldwide press reports deal with us!