REXALINE® YOUTH LINE:
ANTI-AGING THROUGH HYPER HYDRATION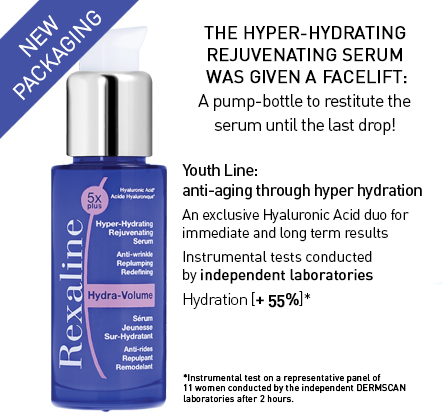 INTRODUCING A NEW TECHNOLOGY
5 TIMES MORE CONCENTRATED IN FRAGMENTED* HYALURONIC ACID
FOR AN IMPROVED ACTION
ANTI-AGING THROUGH HYPER-HYDRATION
A youthful skin is a perfectly hydrated skin. Among the natural constituents of the skin, the Hyaluronic Acid has been identified as an essential element involved in hydration. While aging, the capacity of the cells to produce their own Hyaluronic  Acid decreases and they are no more able to guarantee the same level of hydration. The skin reveals this lack of water, it looses its density and volume, wrinkles appear…
The Rexaline solution: compensate for this loss by supplying the skin with the optimal dose of hydration it daily needs.
At the heart of the Rexaline Complex, a Hyaluronic Acid duo acting on two levels:
– immediately: a first shot of high-molecular-weight Hyaluronic Acid compensates for moisture loss on the skin's surface to produce an instant smoothing effect that helps plump up wrinkles,
– in the long term: a low-molecular-weight (fragmented) Hyaluronic Acid penetrates much deeper in the layers of the epidermis, stimulating the natural synthesis of Hyaluronic Acid. Skin density is recovered, wrinkles are plumped up.
*versus the original formulation